Welcome to Tekline Publishing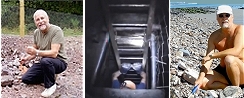 My name is Fred Harding and I welcome you to explore my site and to see what I can do for you. I am a professional web designer and software developer and I have developed websites for many years. Having relocated to Barnstaple in Devon in October 2009, I have established my own website design and publishing business.
I possess a wide range of web design skills accumulated over the years and because I work from home and do all he work myself, I do not have the overheads that other web design companies have. This means that my pricing is considerably lower than any of my competitors but rest assured that this is not at the expense of quality. I invite you to look at my portfolio to view the work that I have done. My aim is to provide you with only the best products and services coupled with a personal touch. Give me a call or send me an email and lets talk!
Transparent Prices - The Price you see is the price you pay
Brochure/Portfolio Package £69
Starter Package £99
Starter Plus Package £149
Artist Package £149
Bonus Package £199
Bonus Plus Package £299
Entry Level Package £399
Business Supreme Package £499
Sites Recently Completed
MY WEBSITE DESIGN HELPS ONE OF MY CLIENTS WIN £10,000 - A CASE HISTORY
One cannot overstate the importance of having a website for your business. First and foremost, most people these days will turn to the Internet to find out about your business and products. If you don't have one then you miss out big time. In addition, your website needs to be able to found on the first page of Google and other pages, so that people can do a search. All my websites I have built are on the first page of Google because I know how to do this thanks to years of experience in SEO. I can offer a wide range of web solutions including ecommerce, so that people can buy your products online.
There are other benefits too in having a website as this case history shows. Kelly and Michelle recently established a Home Care Agency. They had many years of experience between them in this area of important work and had decided to go it alone. They did not have a website and so they were referred to me by a family member for whom I had built their website for namely "Get Set Design Ltd.
I was recommended Fred by a family member to help me design a new website for our new business, as I know very little about IT. I was a bit unsure about this but I knew that the family member has a lot of knowledge in this area and would not of recommended if the service was not good.
The service we received was excellent, our web page was everything we wanted and more and mostly down to Fred's creativity, and when I wanted to make any changes this was done rapidly.

I had built the website in the nick of time because Kelly and Michelle had entered into a local competition by the North Devon Journal for a free £10,000 advertising campaign. The panel of judges wanted to see their website and so they were able to show it to them. It had to be good to impress them and had they not had a website they would not have been one of eight businesses that has been shortlisted
Kelly and Michelle had to attend a special 'Dragon's Den' - style day on 19th December 2011 where they had to put their case to the expert panel who would judge who would win.
Kelly wrote to me on the 16th January 2012 with the news:
Just to let you know me and Michelle have won £10,000 in the journal competition so there will be much advertising going out in the next 3 months starting thursday.
From the North Devon Journal (19th January, 2012):
Kelly Cameron, 27, and Michelle Vowden, 30, of Complete Quality Care Ltd, were stunned to have scooped one of the top spots.
Kelly said: "I'm shaking. I can't believe it. We really didn't expect to win, but this is going to be great for us to get some help with our marketing."
Michelle said: "This will really benefit us, between us we have 25 years experience as carers so we know exactly what we are doing with that, but it's the business side of things we need help with.
"So although it's great to have the £10,000 worth of advertising, it's actually the mentoring side of things we'll really benefit from."
Now that is what I call a result!
So you see, having a website has many benefits. I design and build websites at very little cost and all my prices are transparent. There are no hidden costs. Do you know how much the website cost Complete Quality Care? £149 complete. That's it! The price you see is the price you pay. And as for quality, take a look at the site and judge for yourself. In enabled Kelly and her team to win £10,000! Email me or phone and and I will help you to drive your business forward to the next level.
RESPONDING TO YOUR NEEDS - A CASE HISTORY
One of the great things about developing websites for people is the knowledge that I am helping them to grow their business through my work. Most people have supplied me with a testimonial showing their appreciation for what I have done for them and these can be found on my testimonials page.
Recently I received a desperate appeal from Simon Drew of his company "Loud & Flashy", an audio and photographic studio business he had just established. He was having a website built but the web design company failed to deliver and he needed a website urgently. He saw my website and approached me. As to what happened next, I let him tell you in his own words.
Having been let down at the last minute and panicking because my business was now open with no web presence I found Fred's details on line. And I'm so glad I did!
Fred understood immediately exactly what I wanted and produced an example design for me the following day. And it was brilliant! He then produced the full website in a week; no mean feat bearing in mind how fussy I am and how slow I was responding to his queries!!
The comments I have received about the site so far from customers and friends have been amazing. They are even more amazed when I tell them how little it cost.
If you need a fantastic website at an incredible price and you want to deal with the nicest person in the business, get Fred on the case.
- Simon Drew. (Loud & Flashy)
Wow! It really is good feeling to receive such a testimonial from someone who turned to me in an hour of need and who clearly appreciated what I did for him. If you find yourself in such a dilemma, do not panic. Give me a call and I am sure I will be able to help you just as I did for Simon from Loud & Flashy.
All Website Packages Come with these features as standard
Business Consultancy
Website design & Development
Domain Name You Own
Online Email Linked to Domain Name
Web Emailing Form
Slideshows and/or Galleries
Local Photo Shoot if Required
Widgets such as Google Maps
Insert Videos You Have Taken
Links to Whom You Like (Facebook?)
Search Engine Optimisation
Statistical Analysis
Hosting for One Year
Maintenance for One Year
Become an Author and Publish Your Books on Kindle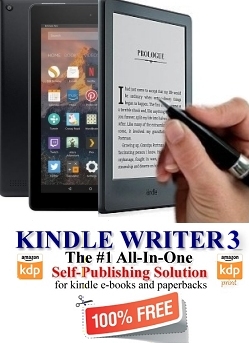 Never has time be better for authors or prospoective authors to write books for the Kindle.
At the end of July 2001, I launched a software program called Kindle Writer and the response has been tremendous. Hundreds of people have downloaded a free 30-day Trial and many have purchased the program. Do a search on the major search engines and you will find Kindle Writer everywhere.
Kindle Writer is the first product of its kind where budding authors will be able to write Kindle Books in the Kindle's native language and publish directly to KDP (Kindle Direct Publishing) for sale around the world.
Here is a chance to get your books published and perhaps earn thousands of pounds as some have...and get yourself noticed by main stream publishers. At £25 this is easily affordable. The writer comes with built in spell checker and thesaurus, and the software is available to try for 30 days free trial. What have you got to lose? It could change your life!
A NEW AUTHOR WRITES
"Thank you so much for your Kindle Writer. The program allowed me to accomplish a longtime goal of leaving a legacy - the experiences I've had with Deaf teens.
Once I spent a few hours working the first program features, the rest I found was easy to intuit. In no time, I was moving along quickly getting the novel ready for Kindle. Please relay to anyone interested, that I highly recommend your Kindle Writer. Your program made possible a dream come true.
May you find satisfaction in serving many more of us authors by helping us write for Kindle with your easy-to-understand program."
- Chip Green, Author: Deaf Eye Satisfy, United States
ARTEMISININ: THE NEW PENICILLIN - The Book That Could Save Your Life
Christmas will see the publication on the Kindle the most important book you will have ever read. I have been working with scientists and researchers in the USA for the last four years and this book puts together an astounding story. The book follows on from my previous work Breast Cancer: Cause - Prevention - Cure" expanding upon the last chapter of that book - A CURE AT LAST!.
When my Breast Cancer book was published in 2007 I predicted that in five years a potent synthetic version of a natural herb that already exists and that can treat and even cure cancer will be ready. Four years have passed. Could 2012 be the year that you will see this miracle cure launched? Backed by scientists at leading universities, the science behind the drug is sound. And it works....
The drug has already saved millions of lives and it is the World Health Organisation's primary treatment for malaria. Now is the time to tell you what has been happening, what progress has been made in a story of a natural herb that will transform cancer treatment forever. But there is a problem and the reason for writing the book. Nobody who is involved in cancer research or treatment are interested in the wonder drug. Why?
The cancer charities do not want you to know about it because it would mean the end of their billion dollar business. You are not going to read about it from them. The Pharmaceutical industry does not want you to know about it because all their massive profits from ineffective chemotherapy drugs will simply disappear. "Artemisinin is so cheap and available over the counter. So, no pharmaceutical industry wants to pursue it.", says Narendra P. Singh, Research Associate Professor, Department of Bioengineering (9th September 2009). Those who supply cancer treatment centres do not want to know about it because their equipment would be surplus to requirements.
The time has come to set the matter straight! There is an effective natural herb that can treat cancer now, and soon there will be a potent synthetic version too. My book traces its history, its development and the latest research. You owe to yourself to read it because it could mean the difference between life and death - yours! One in three people will get cancer in their lifetime - can you afford to ignore it? Get the facts for only £2.13 ($3.32) - a tiny price for knowledge that could be responsible for saving your life.
"Artemisinin is a promising low-cost cancer treatment because it's specific, it's cheap and you don't have to inject it" Lai said. It's 100 times more specific than traditional chemotherapy," he added. "In breast cancer, it's even better."
- Henry Lai
(Research Professor of Bioengineering at the University of Washington)
SEND ME YOUR EMAIL DETAILS
AND I WILL LET YOU KNOW WHEN THE BOOK HAS BEEN PUBLISHED
I Already have a Website! But does it look Old and Dated?
I can Rebuild and Redesign your website at little cost
You have a website! That is great but did you know that most internet users will judge your business in the first few seconds of visiting your website. If your site is not portraying a professional image for your company, or it is difficult to use or hard to find, then you can be sure that prospective business opportunities will be lost because the visitor will look elsewhere.
You may have been tempted to have a free website and that is great to get you off the ground. But they have one big disadvantage. Because free websites have to be easy to edit by you, most if not all rely on old style templates. Consequently, visitors may not appreciate what you have to offer because quite frankly, most templates used are aweful. An independant review concluded, "While researching the Getting British Business Online initiative we havent found one happy customer, not a single person who has expressed satisfaction at their free website and the business they have received from it." This is probably because such free websites look poor and rarely are found at the top of search engines.
If your website does not have the "grab factor" and it looks old as if it has not been updated for years then you really are shooting yourself in the foot and driving potential customers away. If this is describing your website now is the time to give serious thought about having a website re-design, a facelift or complete rebranding and I can do that for you along the same pricing structure as new websites. Give me a call and let's talk! Take a look at this case study and see what I did for this client.